Gay bars and clubs in London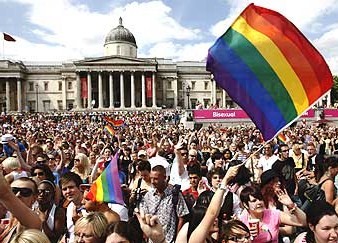 London is well known for its vibrant cosmopolitan atmosphere, club culture, anything goes mentality and abundance of leisure and recreation activities available.  The gay scene in London does not disappoint with a number of underground and main stream venues. Amongst the most popular of the mainstream are those such as Heaven, G.A.Y and Fire amongst numerous bars in the Soho district of London catering to the gay scenes clientele. There are a number of bars such as GAY Late and GAY bar which are affiliated to the club by the same name, as well as  Ku Bar, Barcode and  First Out a short distance away in Covent Garden. The gay scene isn't in just one location but quite widely spread out with Clubs in embankment, Vauxhall and even the O2 arena for instance which makes it very different to many other major Cities in the UK where the gay scene is usually predisposed to one select area.
The London Pride is a major event drawing crowds from all over the world to join in with the gaiety of the hip and trendy event. If your in London you are bound to find a club or bar that tickles your fancy never mind what your fetishes maybe!!!